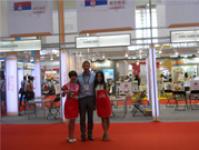 The blame big fair of consumer goods in Ningbo in (the fourth largest port in China, 250km away from Shanghai), held from 8.6.-11.6.2014, was held in a special Expo exhibition hall for companies from Eastern and Central Europe , which was agreed at a summit in November 2013 in Bucharest, between European and kinesnik leaders.
Within the halls, Serbia was given an opportunity to present 16 companies, among which we find ourselves and the company YUMIS. The fair was opened by senior Chinese officials and officials of the participating European countries.
China as the fastest growing market in the history of mankind to more than 7% of the GDP growth year, as a second global economic forces, with the indigenous populations of 1.3 billion, representing a vast potential and largest market. By 2020, China will double the consumption of food, so the demand for products from around the world is enormous.
Company Yumis, despite the large number of contacts, the referee signaled for serious talks with a Chinese company engaged in import of goods from around the world. Products for which it was the most inteserovanja Dolci (hard pack), ice cream, spice hotels, soup.
The overall conclusion from China is very pozivitan for our company.
br