YUMIS latest technology – alongside global companies !!!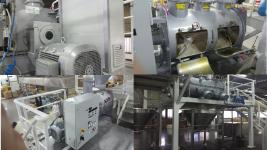 The result of many years of cooperation team of experts Yumis companies and German companies Lodige I was the official opening of a new production line in the category of spices and soup. Company Yumis put into operation at the end of November a new production line worth over half a million.
This project confirms the business policy of the Company Yumis and willingness to monitor the implementation of international standards in the food industry. The new production line is I myself innovation in production technology soups and spices, and in late November has already implemented the system Yumis-a. Therefore production – technological process is raised to the highest and most advanced level, and by the standards, the company Yumis, within the sphere of international companies in this field. The new production process guarantees the highest quality and safety of products, its quality rivals the world's leading brands. In addition to the most modern production – technological process and of the highest quality products, innovation has a number of other advantages. Production capacities are now increased to 32 tons of spices per day or 300,000 pieces daily soup. This fact is of strategic importance, which will contribute to, the strengthening of the position that the company has Yumis in existing foreign markets, and new markets. This way the company Yumis has made the optimization of the entire business and ensure maximum cost savings.
Yumis Company continues to follow the world trends and implement them through its own operating system and that in order to provide high-quality products according to the requirements and standards set by both domestic and foreign markets.