YUMIS on Days of open doors of the Center for regional cooperation and initiative of PKS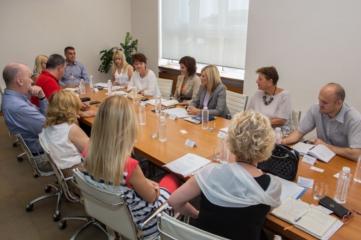 The theme of the recent meeting of the Serbian Chamber of Commerce, the first in a series of Days of open doors of the Center for regional cooperation and initiative of PKS, was the implementation of procedures to monitor the implementation of existing legislation and international agreements in the CEFTA region.
Representatives of renowned exporter company YUMIS from Nis and Pionir from Subotica, pointed to the problems faced during the preparation of each export  consignment. Problems slow down and increase the cost of cross-border movement of goods, it is necessary to find mutually acceptable solutions to the existing administrative procedures simplified.
Yumis Company successfully exports its products worldwide and is constantly working on new markets, so that the brand is recognized not only in the region but also in the United States, the African, Asian, and more recently on the Australian continent. However, according to the company's owner Milovan Kocic, problems usually occur when exports to neighboring Macedonia.
As on that occasion announced, Center for Regional Cooperation and initiatives PKS in cooperation with the Association for Agriculture PKS, chambers of commerce of the region, members of the Chamber Investment Forum, organized meetings with representatives of the competent authority CEFTA parties, with the aim to harmonize the application of foreign trade regulations and improve the exchange of in the region.
The meeting was attended on behalf of the Ministry of Agriculture and Environmental Protection of Serbia, attended by the responsible representatives of the Department of Agriculture inspection of food safety of plant and mixed origin and Control of Tobacco and Tobacco Product Producers, the Department of Border Phytosanitary Inspection Service in places of customs clearance (Plant Protection) the Department for international traffic (Veterinary), and the Directorate for national reference laboratories.